Please be sure to Follow our ASA Late Model Series events!!!
North Eastern United States Race Team Wade Champeno Racing on June, 4th 2004 warming up the car in hot laps. Wade Champeno was running the Nascar Dodge Weekly Racing Series at Jennerstown Speedway located Jennerstown Pennsylvania on a asphalt oval.
United States Racer Wade Champeno managed a third place finish with having to start close the rear on June, 19th 2004 at Jennerstown Speedway. The Blair County Imler, Pennsylvania driver was happy with that finish considering his bad starting position.
August 21st 2004 Wade Champeno running practice Laps. He finished 5th place during the future event at Jennerstown Speedway.



Blair/Bedford County Racer Wade Champeno on June, 4th 2004 same day as previous picture. Wade celebrating in the winners circle at Jennerstown Speedway located in Somerset County. The North Eeastern United States based Race Team had a rough time holding off the hard charging Todd Price but managed to come across the line in first that evening at Jennerstown.
July 10th 2004 Wade Champeno and the other drivers put on a good show running two wide double file in the Nascar Dodge Weekly Racing Series Late Model Division.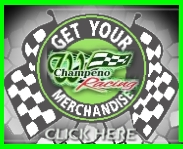 GO TO

OUR PHOTO PAGES