Wade Champeno making his way threw the field from his 5th starting position before the rain came at Jennerstown Speedway in the Nascar Weekly Racing Series late model division.
The 77 Chevy Monte Carlo of Wade Champeno setting on pit road at Jennerstown Speedway waiting for rain to let up that never did.
Wade Champeno Racing Team unvails a new paint scheme but was suffering from engine problems. Their GM Crate engine was down on compression and needed freshened.
July, 15 Wade lead 14 laps giving up the lead with three laps to go to Dusty.. Wade managed to bring home a 2nd on Western Pa's Asphalt Oval Jennerstown Speedway..



Please be sure to Follow our ASA Late Model Series events!!!
Wade Champeno was leading the late model feature when rain showers ended racing events for the night at Jennerstown Speedway in the Nascar Weekly Racing Series Late Model Division.
Pennsylvania Blair-Bedford County Racer Wade Champeno limps his car to pits after getting caught up in early race spin at Jennerstown Speedway in the Nascar Dodge Weekly Racing Series.
July, 8 Wade Champeno gets spun and pulled off a 180 to miss Dink and other competitors to come out unscaved.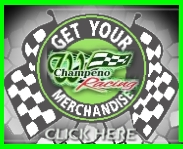 GO TO

OUR PHOTO PAGES