WHAT THEY HAVE IN COMMON IS THAT THEY HAVE ALL RACED TOGETHER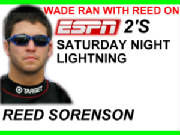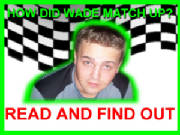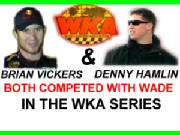 DRIVER WADE CHAMPENO COMPETED WITH THESE DRIVERS BUT HOW WELL DID HE MATCH UP AGAINST THEM?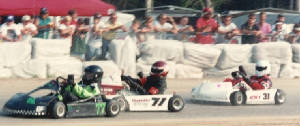 Wade passing Hamlin at Dagsboro, Deleware at a WKA Karting Event.
CLICK HERE TO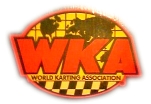 VISIT WKA'S WEBSITE
In 1994 Wade Champeno made the move into the WKA National Dirt Karting Series. Which is the most prestigious Karting events held in the United States. He competed with many great young drivers including Brian Vickers and Denny Hamlin. How do you think Wade matched up against such competition? Well he finished 14th in the entire Nation the first year he ran these prestigious karting events one spot ahead of Brian Vickers. To follow that up Wade came back the following year in 1995 to run the WKA Pavement Series where he finished 6th in the Nation In the Jr Restricted Class and 8th in the Nation in the Jr. Unrestricted Class. He also ran 3 WKA Dirt series events that year running the same number of events that Denny Hamlin ran in the same division. Wade managed to finish infront of Denny as well. Wade managed a 22nd point finish with only running three of the seven events and Denny as well ran three of the seven events finishing 23rd.
Wade on the pole leading Reed Sorenson and many others drivers around the Veladrome in Indianapolis.
In 1995 Wade also managed to make another prestigious Karting Event which was televised on ESPN 2. The show was called ESPN 2's Saturday Night Lightning. Wade only ever made it to one event. He did not manage to go there previously and test the track before running this event. He also didn't have the right kart for running the Concrete. He showed up for the event with a dirt go kart chassis. He managed to qualify on the pole and have a 4th place finish. Who finished 3rd right infront of Wade? Well it was Reed Sorenson. So what these drivers all have in common is that they have all competed together. Be sure to follow our 2007 ASA Events.